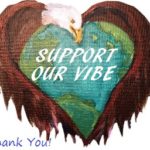 'to live for' is a community based initiative that shares and celebrates your inspirational stories and gifts. You are co-creating 'to live for!'
You are helping us to expand the positive vibes that this world and earth are so much in need of.
Of course, there are costs associated with the development and expansion of this community based initiative. Any donations go a long way in helping us to provide a way to share love, light, and positive vibes.
Contributions can be made in one of three fashions:
Checks payable to 'To Live For LLC', mailed to PO Box 74, Bailey Island, Maine 04003.
Credit card payments can be made through our financial partner, Square, by clicking here.
Providing much needed service in marketing, video editing, business consulting, writing, and story/gift seeking. Visit our Contact Page if you want like to contribute some of your time and service.
We are grateful for your contributions. You are to live for!
Blessings,
Paul & Donna Maria